Today, we cannot imagine a beautiful house without proper furnishing.
Furniture enhances the look of your home and complements your home decor aesthetics. But if you are a little low on space, arranging furniture in your home or apartment can be tricky.
But even with your small space you can decorate it with beautiful furniture with some strategic arrangements. Here are 10 furniture hacks for small spaces that will alleviate the look of your place.
Small Space Furniture Hacks
Think Triangular, Not Square.
One common furniture arrangement that can make your home feel claustrophobic is arranging your furniture, such as chairs and couches, in a square pattern. This arrangement makes your home decor look bland.
One way to solve this issue is to give your arrangement a triangular shape by placing a small bench, hassock, or low table opposite the entrance to create one point of the triangle, and place your furniture at the center of the room instead of placing it along the walls.
By doing this you can divert the visitor's attention to your furniture arrangement instead of size of your room.
Use The Corners Strategically
Before complaining about having no space for furniture, did you pay attention to the corners of your living space?
Corners are the most ignored and underutilized areas in a house, but you can transform the entire look of your small space by using the corners strategically, as they can be great workstations and storage areas.
You can build a computer station, a storage unit, or a decorative shelf to avoid wasting the corner space. This way, you can make your small space look clean and organized while utilizing every inch of the space.
Choose Your Furniture Wisely
You may want to buy all kinds of furniture for your home. But choosing the wrong furniture can make your space look cluttered. Here are some common furniture and alternatives you may use in your space:
Chairs: Instead of choosing heavily padded chairs, you can use chairs with less padding, tall and narrow legs, and straight backs to make your home look spacious.
Couches: large couches can restrict your options while arranging your furniture. So opt for two loveseats instead, which you can arrange according to your needs.
Tables: Tables may look large and clunky in a small space. A good alternative to traditional tables is a small wooden glass-topped table, or if you want to replace the table entirely, consider investing in an Ottoman for added functionality.
Lamps: Instead of using table lamps for illumination, you should consider using floor lamps. They have a thinner profile and will draw attention upwards, which is good for a small space.
Avoid Using Low-Slung Furniture
To make your home appear more spacious and airy, you should avoid buying low-slung furniture that rests on the floor because they make your small space look even smaller and cluttered.
Instead of low-slung furniture, you can try using furniture that has long legs and sits high up in the air. It will make your small space look and feel roomier.
Keep Space Open For Moving Around
While it can be tempting to use every inch of your living space to arrange your furniture when you are living in a small apartment or home, you should avoid doing that.
If there isn't sufficient space in your apartment for moving around, someone might injure themselves by stumbling on your furniture. To avoid this, make drawings of all the entries and exits to your home before rearranging your furniture.
By doing this, you avoid bottling up your living space and also avoid medical bills.
Optimize The Lighting
Light can effectively make your small space look spacious and bigger. One way of optimizing the lighting in your home is to use a lot of mirrors to bounce the light around in your home. More reflective surfaces will distribute the light equally in your home.
Also, keep the windows open to allow natural light to enter your home. At night, you can use overhead lamps to light up your home.
Tip: Use off-white and neutral colors on your walls. They complement the lighting in your house and make it feel airy.
Invest In A Large Area-Rug
Usually, it is advisable to avoid buying large furniture if you have limited space, as it can make your house feel cluttered. However, this rule doesn't apply to your rugs.
Large area rugs are a worthwhile investment for your home because, according to many interior designers, larger rugs can visually enlarge your home and prevent it from appearing chopped off and unorganized.
Tip: Buy area rugs that have a light color and simple patterns and get them cleaned by professionals from time to time to get the most out of your purchase.
Opt For Multipurpose Furniture
If you want to furnish your small living space, you should choose furniture that can serve multiple purposes. For instance, a storage bed may take up space, but it also has built-in storage, which you can use to store multiple items.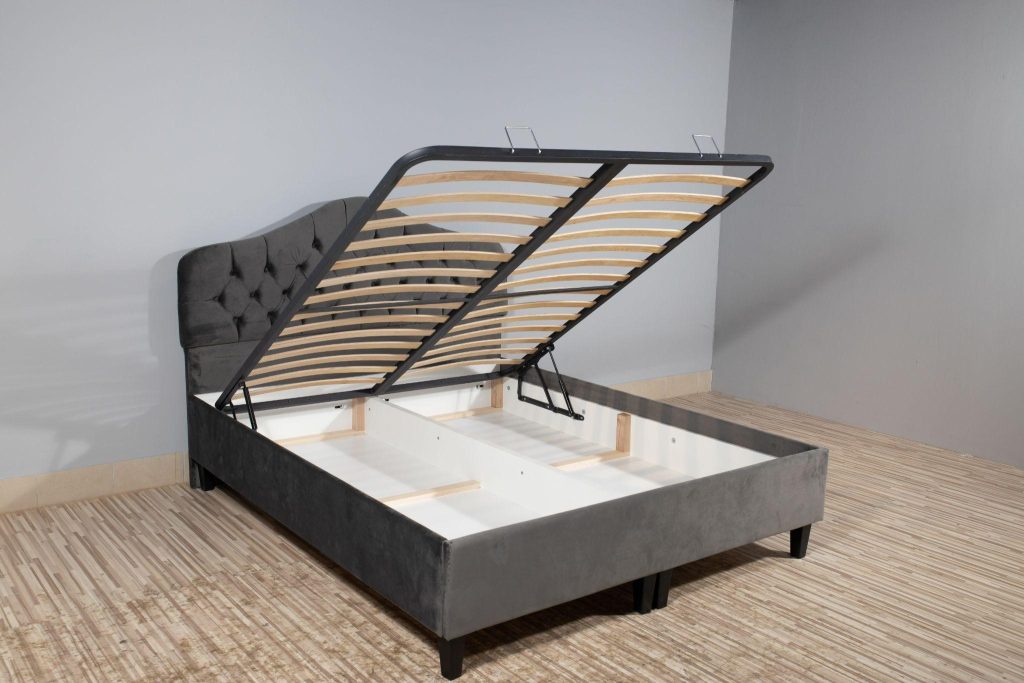 Similarly, you can use unconventional furniture, such as a DIY table made from a crate. You can use it as a bedside table and also use it to store items like books.
Keep your Carpets Clean
Cleaning your carpet frequently is just as important as arranging your furniture properly. An unclean carpet can make your space look even smaller and cluttered.
There are multiple benefits of cleaning your carpet by yourself or getting it cleaned by a professional carpet cleaning service. Some benefits include a clean and healthy environment, better home aesthetics, a fresh smell, and an organized feel.
For a more spacious-looking and healthy home, clean your carpets from time to time.
Use Your Walls
We saved the best advice for last. Rather than building things like bookshelves horizontally, you should consider building them vertically on your walls.
You can construct the shelves by yourself as they are easy to build. And as a bonus, you also get an additional storage place underneath them.
Wrapping Up
As Genie from Aladdin said, 'phenomenal cosmic powers, A Itty bitty living space.' You can also have phenomenal arranging powers in your itty bitty living space with these 10 furniture hacks for small spaces.
Remember, with proper organization and cleaning. Even a small space can look roomy and spacious.
Author Bio:
London Carpet Cleaning LTD has been the best carpet cleaning service in London for 15 years. We provide a range of cleaning services including carpet cleaning, rug cleaning, upholstery cleaning, stain removal, and commercial carpet cleaning.