Do you want to install some versatile things in your bathroom? There are lots of benefits to remodeling your home bathroom from time to time because you may find it clean, hygienic, and improving the bathroom by reducing some unessential things. Your bathroom is an important place of your home if you want to freshen up and sometimes your guest uses it by those things that you are using from last to last year.
Expert's says, to keep the bathroom hassle-free remove the useless bathroom accessories. Bathroom Remodeling stays energy and increases the value of your home by updating with good investment on storage and various essential frills.
However, before diving into remodeling your bathroom you must consider the best way to optimize the space without actually starting the renovation. To achieve this you must implore 3D modeling techniques that allow you to envision the most efficient way to use the space available.
See Various Benefits After Getting Remodel Bathroom:
First, if you are confused to take the right setting of your bathroom and difficult to remodel by yourself. Call the interior experts they are available in the market into your budget and they support increasing the value of your bathroom by pleasant remodeling hacks.
Add Glossy Bathtub: bathtub is an exquisite thing of the bathroom and everyone can easily fall in love with it. Bathtub installation builds your interest to use it again and again thus bring it from the market soon, it comes in a wide array of beautifully designed in the perfect glossy look like ivory corner tub, whirlpool bathtub that complete the bathroom graced and called space savers tubs.
Mount The 3 Handled Shower Faucets: this shower faucet is a perfect control combination of hot and cold water. It has three controls for hot water and cold water and a third control to use for the bathtub if you love use it for bath. Such as the best quality always maintain the beauty of your bathroom like add the valve cartridge & trim included and brushed nickel as you like the most and easy to install.
Perfect Installation of WC: if you are getting bored with the old WC style then replace the more hygienic and stylish WC into your bathroom with a matching glossy bathtub & stylish washbasin. You are free to install from the variety of water closets that are offering in a unique design like rimless hung WC, multifunction WC toilet which is good for elder people also and many more varieties are available in the market.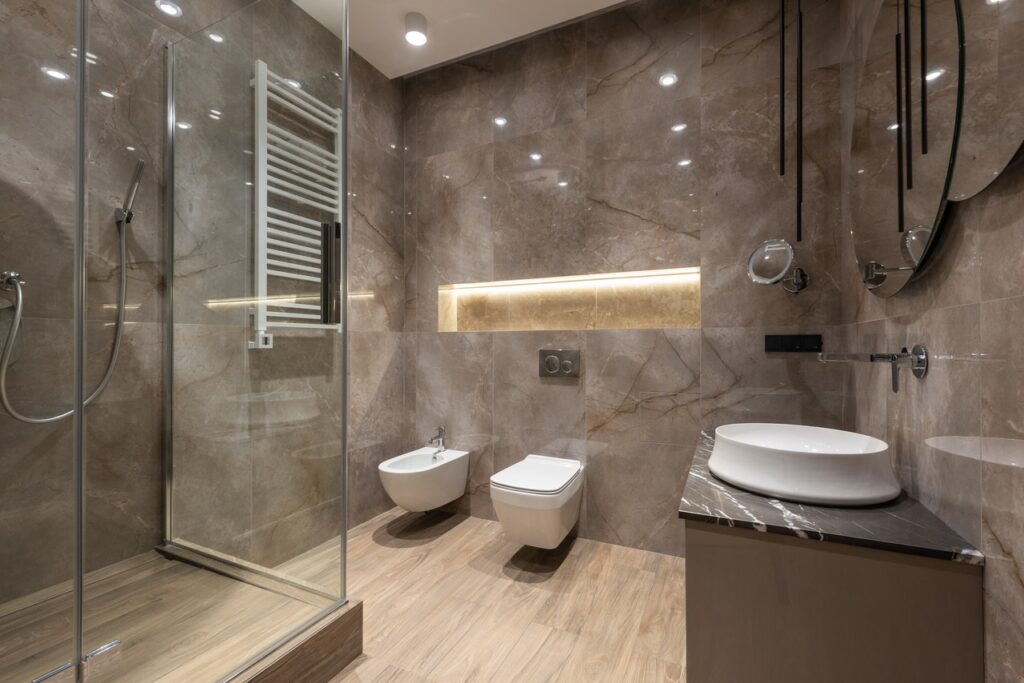 Bring Pop-Up Drain Washbasin: at present, the square pop-up drain washbasin is in a fashion that comes in premium quality with advantages of scratch resistance & non-porous finishing. Bring this designed basin that builds the value of your bathtub & WC and brighten up the look of your bathroom to choosing by the multiple qualities.
Mount The New Basin Mixer: remodeling bathroom always offering the hassle-free environment during the use of this space of the home. Hence, you should install the new basin mixer with durable brass & ceramic discs that will be perfectly meet your square basin combination. As you may grab various chrome finished taps in the market that is easy to install, modern, and long-lasting use as compare to the old version tab of the sink.
Make High Standard Of Your Bathroom:
Bathroom accessories define the choice of members and this is the original identity of your home which characterized your bathroom with qualitative remodeling items. Further, the designer helps to remake the same theme in chrome polished, ceramic finish with the high glossy bathtub & basin as you want to see in your bathroom.